Whiten your smile by up to eight shades in only an hour!
Our in-office whitening procedure involves the application of a peroxide-based product and utilizes a high-intensity light or laser to enhance the whitening. The solution strength can vary from 15-35% carbamide peroxide gel and is applied several times, rinsed off and reapplied, getting teeth up to eight shades lighter in less than an hour.
Custom Take-Home Whitening Trays
Take-home whitening systems can utilize the same concentration of peroxide but tend to have flavoring or fluoride added for improved taste and reduced sensitivity. For this choice, custom fit whitening trays are made, and patients are sent home with the trays, whitening gel, and instructions. Dispensing the solution into the trays and wearing them for up to 2-hours a day can get a similar result as in-office treatments, but it may take up to two weeks.
Both in-office and at-home procedures are considered safe if done under the supervision of the dentist.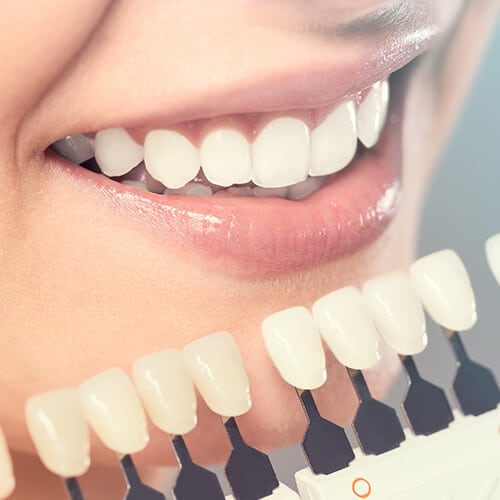 Watch our video to learn more about teeth whitening.
This place is very nice and dentist is wonderful and he answers all your questions n the staff is nice the play great music too in sitting area very comfortable I love it !!
William Henderson
01:56 08 Jul 21
Dr Winskill and staff epitomize professionalism —newest procedures and technology, efficient and personalized care.
Margo Holm
16:36 01 Oct 19
He's the best in the Northwest! I hated going to the dentist because of childhood trauma associated with dental visits. I was referred by a friend that he was great and I can testify that he is great. He's entire crew is! No judgement all remarks or unnecessary treatments, just what you need. If you don't want to take out your wisdom teeth and they are healthy, you don't have to be pressured to take them out unless you have to. Love love love you Dr Winskill 🤗
Years ago I used a dentist that basically did horrible work and as a result most of what he did has been redone. I've been going to Dr Winskill for the last 11 years. His work is second to none. As a result, I have sent him several referrals and they continue to be his patients. One of his hygienists, Elaine, is very skilled and does a great job cleaning my teeth. I highly recommend Dr Winskill and his staff.
Enjoy our top cosmetic procedure for improving the appearance of your teeth.