Comprehensive Dental Hygiene
Get your routine check-up and professional teeth cleaning.
ROUTINE DENTAL HYGIENE WELLNESS
Improve your daily brushing and flossing with Soundview Dental Arts
Daily brushing and flossing remove a great deal of the plaque and bacteria that accumulates on your teeth, but it's nearly impossible to remove it all on your own.
Your dental hygienist can be your partner in achieving good oral health and visiting the dentist at least twice a year for a professional cleaning can prevent tooth decay and periodontal (gum) disease. Our dentist may recommend more frequent visits based on the condition of your teeth and gums.
What to expect at your check-up appointment:
We provide a range of services to help with your dental hygiene and overall health. Please select an option: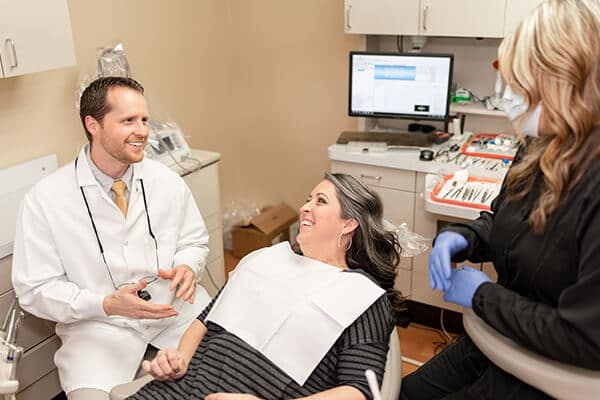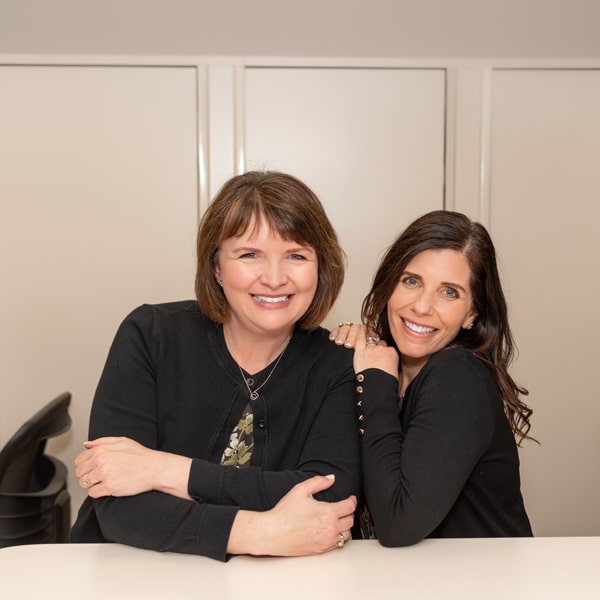 Here is what is included in your typical dental hygiene appointment.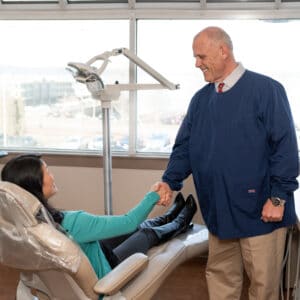 Visual & Gum Disease Evaluation
During the evaluation, your Tacoma dentist will check for cracked, broken, or decayed teeth as well as looking for any abnormal areas on your cheeks, gums, tongue, and roof of the mouth.
Since gum disease affects almost 50% of adults in the U.S. (Center for Disease Control), we perform a comprehensive assessment during your exam to check for any signs of periodontal disease.
When addressed in the early stages, periodontal disease is easily controlled and possibly reversible. Since gum disease exhibits minimal symptoms until it is significantly advanced, it is important to be evaluated for early stages of the disease. Conservative, early intervention is best and our team will assist you in choosing the best treatment options for your condition.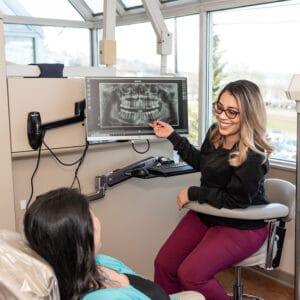 The dentist may recommend digital X-rays and photographs to help identify problem areas in your mouth. The type of images may vary based on your particular situation, but a full jaw x-ray, called a panoramic x-ray will give the dentist a comprehensive view of all the structures in your mouth as well as your jaw joint and your sinuses.

Digital 3D imaging may be appropriate in your situation to determine the exact positioning of your teeth.

Your dentist may also use a special digital camera to take close-up pictures of your teeth or gums. This will help them identify and monitor any areas of concern. We also use intraoral cameras to provide live images while we examine your smile.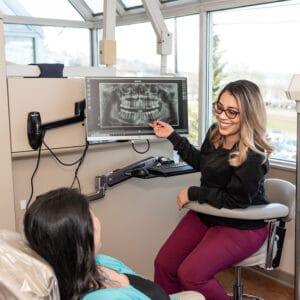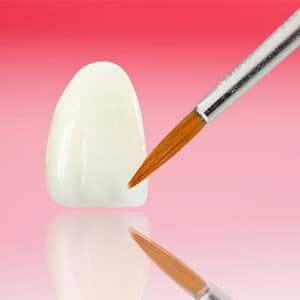 Cavity Prevention
The American Dental Association (ADA) recommends fluoride treatments based on your risk for developing cavities.

Our team evaluates if your risk for cavities is low, moderate, or high: based on criteria outlined by the ADA.
We offer fluoride treatment twice a year to individuals with low risk. Moderate-risk individuals are offered fluoride twice a year + a take-home fluoride product to help reduce the chance of getting another cavity.

Individuals with a high risk for cavities may be offered fluoride treatment more than twice a year, a take-home fluoride product, as well as an antimicrobial rinse to reduce the cavity-causing bacteria.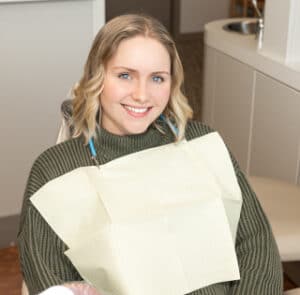 Professional Teeth Cleaning
Our trained hygienists perform thorough teeth cleanings. Our team removes the plaque and tartar from your teeth and then polishes them to remove stains and smooth the tooth surface. In addition to hand-held hygiene techniques used by our skilled hygienists, ultrasonic devices deliver targeted treatments to hard-to-reach areas. These devices deliver ultrasonic vibrations to crush and move calcified deposits of calculus.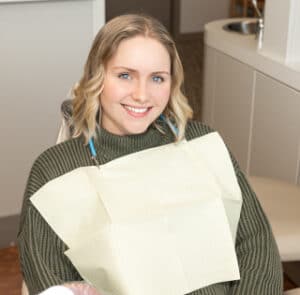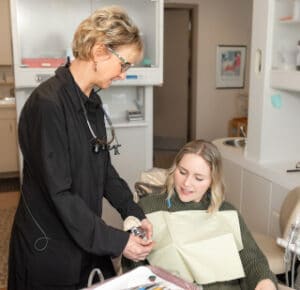 The development of oral cancer is on the rise.
Most oral cancer responds well to treatment when detected in the early stages. The risk of developing oral cancer increases five times with smoking, two and half times with excessive alcohol use, and thirty-two times in the presence of a persistent HPV (Human Papilloma Virus) infection.
The dentist will look over all the tissue in your mouth, including your tongue, lips, and cheeks, checking for anything abnormal. She will also feel for any unusual lumps or bumps and make recommendations for follow-up if necessary. We also can do a salivary screening to check for an active HPV infection. Recommendations for reducing your risk of developing oral cancer include regular screenings and possible lifestyle changes.
Take your dental care into the modern age.
For several years, lasers have been used in dentistry. They provide additional benefits when combined with regular cleanings or therapy for gum disease. Our hygienists perform two specific procedures that can reduce the risk of gum disease or provide healing if you need gum therapy.
LASER BACTERIAL REDUCTION
Also known as "Laser Decontamination".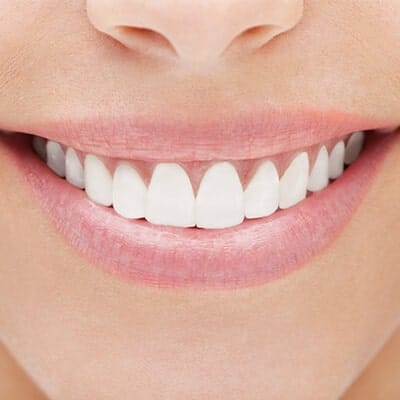 Laser Bacterial Reduction is a procedure where thermal, light energy is emitted through a small, fiber optic tip between the teeth and gums. This energy is used to vaporize the harmful bacteria at or below the gum line called biofilms.
Biofilms are directly related to an increased risk of developing gum disease, an infection affecting the supporting bone. During your dental hygiene appointment, the hygienist will disrupt the biofilm to reduce the risk or severity of periodontal disease, but cannot eliminate the bacteria without the laser. Destroying the bacteria will reduce inflammation in the gum tissue, and keep your gums healthier between visits.
LASER ASSISTED PERIODONTAL THERAPY
Laser Assisted Periodontal Therapy is a procedure in which thermal, light energy is emitted through a small, fiber optic tip between the teeth and the gums. This energy vaporizes the harmful bacteria at or below the gum line and removes the infection.

Active periodontal disease is a result of this bacterial infection causing a breakdown of the gums and bone surrounding the teeth. Typically the infected, diseased tissue is removed with a procedure called curettage during gum therapy. It is a non-surgical, conservative procedure performed by your dental hygienist, using a local anesthetic.
Research shows that incorporating the use of the laser into gum therapy procedures "can produce an earlier and greater improvement in gingival health", and "these applications can be used to improve periodontal wound healing". The thermal energy produced by the diode laser stimulates circulation and the formation of collagen fibers while reducing inflammation and bleeding.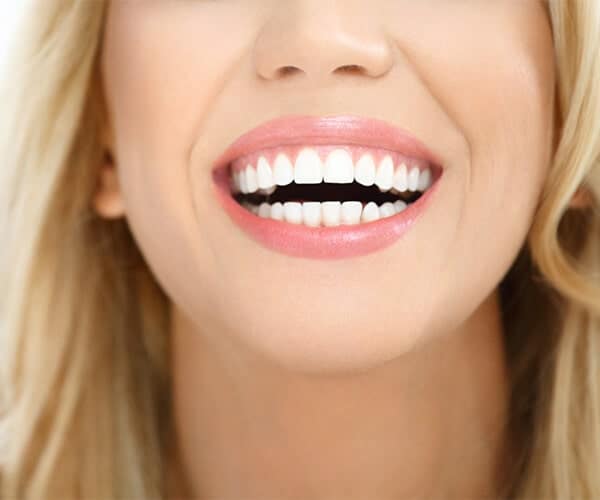 There are no known side effects to incorporating the laser into gum therapy. Most patients report no discomfort during or after the use of the laser. Local anesthetic is utilized for most laser assisted periodontal therapies. It is also recommended to apply vitamin E oil following the therapy to provide a lubricant barrier and additionally promote healing.
Dental professionals now have access to this technology by using a laser specifically designed to treat the gums. Due to the advances in the production of these lasers, our office now has the ability to offer laser-assisted periodontal therapy as part of our standard of care. We are happy to treat our patients with an elevated level of care that is not only supported by the research but also affordable.
Although the laser kills millions of harmful bacteria during the procedure, the bacteria will multiply again over time, returning to original levels over the next several months. For this reason, we recommend laser decontamination therapy be included every time you see your hygienist. For some patients with a history of periodontal disease, this may be every 3 months. One of the most important factors in obtaining optimal oral health and controlling periodontal disease is the body's ability to fight off these harmful bacteria. Incorporating laser bacterial reduction into appointments following initial gum therapy keeps the bacteria at a lower level, giving the immune system a chance to keep the gums healthier.
I was referred here by a friend several years ago. The dental work is a 10 out of 10. The best part is that they make you feel like family.
Troy Glassett
08:35 11 Aug 23
Friendly, efficient and professional staff and dentist (Dr. Whalen). Clean, welcoming environment - thorough cleaning and examination.
I actually enjoy going to the dentist here. Dr Whalen is engaging and always stops in to say hi. My hygeniest is top notch and is always concerned for my dental health. Thank you to the front desk for the appointment reminders and curteous care.
Jim Dobbins
22:00 03 May 23
The office staff is great. Professional and made me feel at ease and answered all my questions. Dr. Whalen and her staff are top notch. I have recommended many people and they have all been pleased and the practice on all levels has exceeded their expectations.
julie joyce
23:37 01 Nov 22
Awesome place to get your dental work done, our family has been going here for about 15 years. We wouldn't go anywhere else.
Glen Acord
20:36 01 Nov 22
Well since day one they have made me feel comfortable and the service is beyond great. Front desk lady's thanks always a joy.And to the staff thanks for the help and advice you guys are wonderful.
Hector Quinones
18:36 01 Nov 22
Outstanding professional service from a friendly staff. What's not to like?
Wonderful staff, efficient painless treatment! Friendly and reassuring, I always knew what they were doing and what steps were next. Highly recommend.
Tops as the best dental office I have been to in my life...The dental team is super attentive and friendly. From firsthand experience, the front office staff will put in a great deal of effort to make sure you are seen as promptly as possible if you're experiencing pain or discomfort. Great people
Kevin Stam
16:31 14 Apr 22
Raise your hand if you're afraid of going to the dentist?Yeah, me too.But the minute I walked into Soundview Dental Arts, all of my fears subsided with the amazing and compassionate care from Dr. Winskill and the rest of the Soundview crew.Oh, and let's not forget the stunning views of Puget Sound that are panoramically placed front of you.
Mike and Lisa do life.
17:29 24 Nov 21
Dr Winskill and staff epitomize professionalism —newest procedures and technology, efficient and personalized care.
Margo Holm
16:36 01 Oct 19
He's the best in the Northwest! I hated going to the dentist because of childhood trauma associated with dental visits. I was referred by a friend that he was great and I can testify that he is great. He's entire crew is! No judgement all remarks or unnecessary treatments, just what you need. If you don't want to take out your wisdom teeth and they are healthy, you don't have to be pressured to take them out unless you have to. Love love love you Dr Winskill 🤗
Years ago I used a dentist that basically did horrible work and as a result most of what he did has been redone. I've been going to Dr Winskill for the last 11 years. His work is second to none. As a result, I have sent him several referrals and they continue to be his patients. One of his hygienists, Elaine, is very skilled and does a great job cleaning my teeth. I highly recommend Dr Winskill and his staff.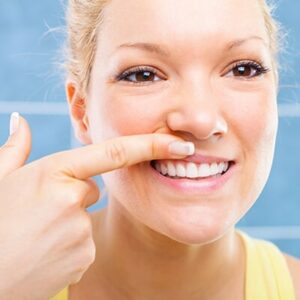 How often should I get my teeth cleaned?
The Academy of General Dentistry recommends seeing the dentist for a check-up and cleaning at least twice a year. Your Tacoma dentist may recommend you visit more often depending on your specific situation and risk of disease. Some conditions: diabetes, heart disease, or pregnancy may require more frequent cleanings to keep you and your mouth healthy.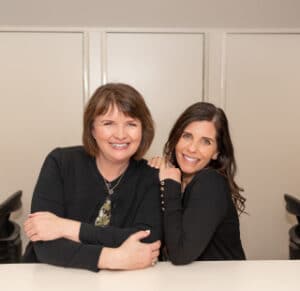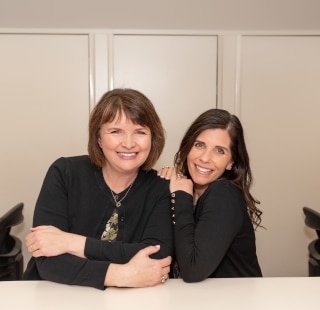 Will my insurance cover my check-up appointment?
Most insurances cover the procedures completed at a check-up and cleaning appointment. Our great team of insurance coordinators will help you navigate through your specific insurance benefits and provide you with an estimate of costs should there be a remaining balance after the insurance payment.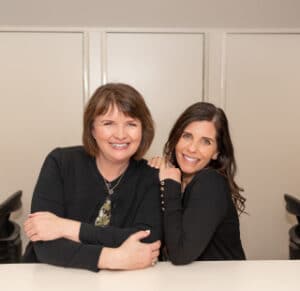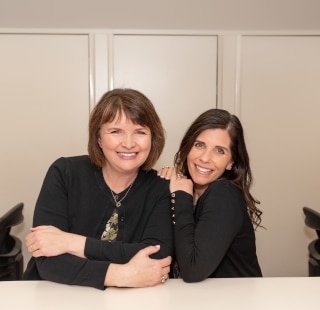 MAINTAIN YOUR ORAL HEALTH
Improve dental hygiene habits and enjoy a gentle cleaning with our team.